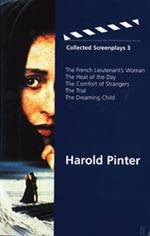 The problem with adapting John Fowles' The French Lieutenant's Woman was that of the active role the author plays in the book. To have the author on screen, talking to us, as it were, seemed to Karel Reisz and me to be impossible. Karel solved this dilemma brilliantly, I thought, by proposing that the actors playing Sarah Woodruff and Charles Smithson in 1860 also play the actors themselves in the present, so that the two narratives run concurrently and the perspectives constantly shift. The two narratives, in other words, complement and illuminate each other. The screenplay took a long time to write but was very rewarding.
Elizabeth Bowen's shadowy, dense wartime novel The Heat of the Day, a spider's web of dubious loyalties and betrayals, I found compelling. It was shot by Christopher Morahan for television and the framework of blacked-out London was most persuasive. Patricia Hodge gave a very intelligent and touching performance, Michael Gambon one of his very best and Michael York his best. The film was shown at 10pm on a Saturday night the day after Boxing Day and about three people saw it. It was not reviewed in the press and was never shown again.
Ian McEwan's The Comfort of Strangers is a truly frightening book. It slid onto the screen. Paul Schrader moved about a dark Venice almost on tiptoe and the deepening magnetism of evil (with a smiling face) I think is truly disconcerting. I found in it an echo of silent movies where the audience would cry: "Don't go through that door!" But the two victims did go through that door and the fearsome Christopher Walken ate them up.
I had wanted to have a crack at The Trial for many years and the BBC finally gave me the opportunity. David Jones and I decided to set it in pre-first world war Prague, where and when the world appeared to be solid and stable. The growing shadow of another world, seeping into K's consciousness, I thought was very well conveyed in the film, which seemed to me a rich piece of work altogether.
I adapted Karen Blixen's The Dreaming Child a couple of years ago and the film has not yet been made. The short story is wonderfully elusive and mysterious and I believe it will make a very arresting and affecting film. I hope it comes about.
I have never written an original film. But I've enjoyed adapting other people's books very much. Altogether, I have written twenty-four screenplays. Two were never shot. Three were rewritten by others. Two have not yet been filmed. Seventeen (including four adaptations of my own plays) were filmed as written. I think that's unusual. I certainly understand adapting novels for the screen to be a serious and fascinating craft.
Harold Pinter
13 September 2000