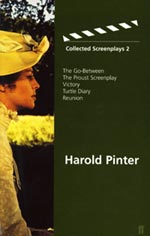 When I first read The Go-Between I burst into tears on the last page so that when Joe Losey asked me if I'd like to write a screenplay of it I said "Impossible. I can't write a screenplay with tears streaming down my face." However, I managed to pull myself together and get down to work. Joe and I decided quite early on that we would bring the present into the past throughout the film. This entailed the arrival of Michael Redgrave (the elderly Leo) to the village he last saw as a boy in 1912 where he witnessed or rather participated in the disintegration of a society. This structure was not popular with the distributors. Coming away from an early screening I heard a moneyman say "If they just get rid of all that Michael Redgrave crap it could do well." Pressure was brought to bear on us but Joe and I would not budge. I'm very glad we stuck to our guns.
Someone asked me once why I kept so much of L P Hartley's dialogue. I replied "Because it could not be bettered."
Early in 1972 Nicole Stephane, who owned the film rights to A la Recherche du Temps Perdu, asked Joseph Losey if he would like to work on a film version of the book. He asked me if I was interested.
For three months I read A la Recherche du Temps Perdu every day. I took hundreds of notes while reading but was left at the end quite baffled as to how to approach a task of such magnitude. The one thing of which I was certain was that it would be wrong to attempt to make a film centred around one or two volumes, La Prisonniere or Sodome et Gomorrhe, for example. If the thing was to be done at all, one would have to try to distil the whole work, to incorporate the major themes of the book into an integrated whole. We decided that the architecture of the film should be based on two main and contrasting principles: one, a movement, chiefly narrative, towards disillusion, and the other, more intermittent, towards revelation, rising to where time that was lost is found, and fixed forever in art.
In Le Temps Retrouve, Marcel, in his forties hears the bell of his childhood. His childhood, long forgotten, is suddenly present within him, but his consciousness of himself as a child, his memory of the experience, is more real, more acute than the experience itself.
Working on A la Recherche du Temps Perdu was the best working year of my life.
The money to make the film was never found.
I worked on the script of Victory with Richard Lester. I had found Joseph Conrad's book immensely powerful, with a very rich collection of characters. I was also excited to write a film based in East Asia in 1900. But the American production company did not share my enthusiasm. They decided that "period" films cost too much money, particularly when they dealt with Conradian moral complexities, so they withdrew. This screenplay has never been shot, although another film of the book was made a few years ago.
Turtle Diary, a wry, secretive book by Russell Hoban, I found a very attractive proposition. The film, I believe, succeeds on a number of counts but finally disappoints. This is because it fails to give proper expression to the inner life of the two protagonists. The failure does, I think, lie in the screenplay itself, although it's difficult to put one's finger on it. The film is funny but not, perhaps, sufficiently earthed.
I believe Reunion is a very underrated film. Fred Uhlmann's book focuses on the life of two boys (one a German aristocrat, the other the son of a Jewish doctor) in Germany in the early thirties. The framework of the novella is the Jewish boy fifty years later, now a lawyer in America. I took the lawyer on a trip to Germany and juxtaposed past and present, gradually revealing both. The contrast, in Jerry Schatzberg's film, of Germany then and now and Jason Robard's almost silent journey through the city of his childhood I found extremely telling.
I have never written an original film. But I've enjoyed adapting other people's books very much. Altogether, I have written twenty-four screenplays. Two were never shot. Three were rewritten by others. Two have not yet been filmed. Seventeen (including four adaptations of my own plays) were filmed as written. I think that's unusual. I certainly understand adapting novels for the screen to be a serious and fascinating craft.
Harold Pinter
13 September 2000