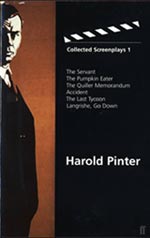 I wrote the screenplay of Robin Maugham's The Servant for Michael Anderson in 1962 but he wasn't able to find finance for the film. The script found its way to Joseph Losey. I went to see him in his house in Chelsea. "I like the script." he said. "Thanks." I said. "But there are a number of things I don't like about it."
"What things?" I asked. He told me. "Well, why don't you make another movie?" I said and left the house.
Two days later he called me. "Shall we try again?" he said.
I said "Okay." I went back to his house, we did further work on the script and over the next twenty-five years we worked on three more screenplays and never had another cross word.
It's strange to think that The Servant was written almost forty years ago. The film still seems as fresh as a daisy to me, whilst stinking of moral corruption. I think Joe Losey and the cameraman Douglas Slocombe did a superb job and Dirk Bogarde and James Fox made a wonderful couple.
For some obscure reason, The Pumpkin Eater has never been released as a video and only very occasionally shown on television, so it is little known. This is sad because Jack Clayton was a director of great distinction. The book, by Penelope Mortimer was the story of a woman with many children, a very successful husband, all material comforts, but who nevertheless inhabits a desert island of the mind. She is totally and irrevocably alone. Anne Bancroft gave a fine performance and James Mason one of unforgettable viciousness.
The Quiller Memorandum, based on a spy story by Adam Hall, fell, I think, between two stools: One, the Bond films and the other, The Spy Who Came In From The Cold. In other words the film never quite made up its mind as to which path it was taking. It was seriously intended but at the same time couldn't resist received ideas of the "spy movie", too often resorting to melodrama. Nevertheless the neo-Nazi theme was, I believe, treated quite boldly and in some respects (the character of Inge) with subtlety. When it was shown in West Germany and dubbed into German the distributors changed the neo-Nazis to communists.
Sam Spiegel financed the writing of Accident on which I worked with Joe Losey. When I had finished the script Spiegel read it and asked us to meet him in his office. He sat behind his classic producer's desk, the script in his hand, and stared at us.
"You call this a screenplay?" he said. "I don't know who these people are, I don't know what their background is, I don't know what they're doing, I don't know who's doing what and why, I don't know what they want, I have absolutely no idea what is going on, how can you call this a screenplay?"
Joe and I sat in silence. Joe finally said "I know what's going on."
"So do I." I said. "You two might know what's going on." Spiegel said. "But what about all the millions of peasants in China?"
We took the screenplay elsewhere.
The novel by Nicholas Moseley was a first person narrative, highly subjective, incorporating "streams of consciousness". I tried to go with that in an early draft but very quickly realised that "streams of consciousness" are fatal in the cinema. I settled for a hard, spare, tight, objective scrutiny and Joe Losey carried that scrutiny through in the shooting of the film. In consequence, I think it's a film of great economy and poise and a truly chilly beauty.
Mike Nichols was originally to direct The Last Tycoon but he withdrew after some months work on the script because he couldn't get on with Sam Spiegel in his capacity as producer. Elia Kazan took over. My own relationship with Sam had changed, indeed mellowed, over the years and I didn't find working with him too difficult. He could be testing but he was without question shrewd, knowledgeable and imaginative.
The film itself I found disappointing. I thought it too romantic and the casting of the central female role was underpowered. Monroe Stahr was one of Robert de Niro's first leading parts. He was impressive.
An independent producer called Max Rosenberg came to me with Langrishe, Go Down, a novel by Aidan Higgins, on which he had taken an option. It was a brilliant, haunting book and I much enjoyed adapting it. Naturally, the finance could not easily be found and it languished as a project for some years. Finally, David Jones at the BBC came across the script and was determined to direct it. He did, in Ireland, in 1978. The film was true to both the script and the book and I thought it tough and delicate. Jeremy Irons scored a bull's-eye with his portrait of the unscrupulous German student. The film was shown once on television and hasnšt been seen since.
I have never written an original film. But I've enjoyed adapting other people's books very much. Altogether, I have written twenty-four screenplays. Two were never shot. Three were rewritten by others. Two have not yet been filmed. Seventeen (including four adaptations of my own plays) were filmed as written. I think that's unusual. I certainly understand adapting novels for the screen to be a serious and fascinating craft.
Harold Pinter
13 September 2000