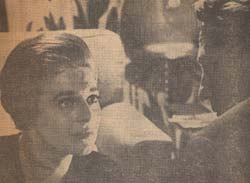 Anne Bancroft and Peter Finch
Directed by Jack Clayton
Starring: Anne Bancroft and Peter Finch
Based on the novel by Penelope Mortimer
Screenplay by Harold Pinter published in
Collected Screenplays 1
What marks it out is the nerve and ability to say frank, scathing, excoriating things about that state of life which the law calls marriage, and which any two people may call hell or bliss. And it says then, in a way that tests the emotions of its players to destruction point.

James Mason
Expect no neat, tidy story tied up with a start middle and finish. For few marriages are neat, tidy affairs and certainly no the one pictured here with almost unbearable candour.
Penelope Mortimer's original novel was an odd unhappy painful work that seemed to have been conceived in the brain-and this raw quality is intensified by Harold Pinter's screenplay.
Alexander Walker, Evening Standard