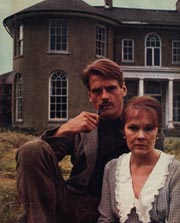 Jeremy Irons and Judi Dench
Adapted for Television 1978
Directed by David Jones
Starring: Jeremy Irons, Annette Crosbie, Judi Dench
Based on the novel by Aidan Higgins
Screenplay by Harold Pinter published in Collected Screenplays 1
Interview: Had he thought of going to Ireland to write the screenplay?
"I didn't need to. I had my Ireland in me. And I had Aidan Higgins's Ireland in me. There was no need to refresh myself...I was over there in '49, '50 and '51 with Anew McMaster (The Irish actor-manager and subject of a Pinter prose piece Mac). In fact, by a pure coincidence, they shot the film in the Waterford area. So when I went there I actually hadn't been there for about 28 years. "
David Jones on The Homecoming: "There were areas of the screenplay which on the page I found enigmatic. That's not unusual for a first reading of Harold's work. But the screenplay is tremendously faithful to the novel. Patch after patch of dialogue which I thought was purely Harold's creation is, in fact, a very clever, very faithful editing of Aidan Higgins's writing.
Judi Dench: on The Homecoming: "I was very frightened at first having Harold there. Acting with him. But then I realised that because he was acting he was frightened by the prospect, like the rest of us. I only had two lines in that entire very long scene...he made me laugh a lot- and then it was no problem.
Jack Emery, Radio Times