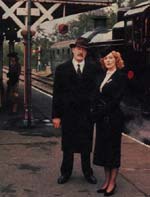 Michael Gambon and Patricia Hodge
The Heat of the Day has one of those pure Pinter-esque characters who may be called Harrison or Robertson, who may be in counter intelligence or may not, who is large and pallid like a fungus which may be edible or not. As he says: "I might grow on you." Pinter did the screenplay from Elizabeth Bowen's book and his peculiar menace makes you gasp for air.
Nancy Banks-Smith, The Guardian, January 1st 1990
Here the Pinter influence is most obvious, in conversations constructed from spare, precise dialogue and significant pauses in which the viewer is consistently invited to find more than lies on the surface.
Peter Waymark, The Times, December 30th 1989
Further Reading
'Harold Pinter 1990: BBC Birthday Celebration: Review' by Ronald Knowles (Pinter Review 1990)