Video Info:
The Go-Between

Classification:
Starring: Julie Christie, Alan Bates, et al.
Director: Joseph Losey,

Edition Details:
PAL format
HiFi Sound, Colour, PAL
ASIN: B00004CJ4U
Catalogue Number: S038177
Films by Harold Pinter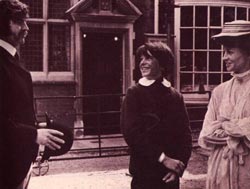 Alan Bates, Dominic Guard and Julie Christie
The Go Between 1969
Directed by Joseph Losey
Starring: Alan Bates, Julie Christie and Dominic Guard
Based on the novel by L.P. Hartley
Screenplay by Harold Pinter published in
Collected Screenplays 2
What director Joseph Losey and his screenplay writer Harold Pinter expose beneath the privileged surface of life in a great house is social hypocrisy as well as secret passion. The false values that people live by, using class differences to maintain their power and privilege and never learning from the resulting tragedies.
Losey is perfectly served by his screenplay writer Harold Pinter, who has adapted L.P. Hartley's novel with scrupulous fidelity, yet adds to it his own uncanny skill at depicting people who use words to conceal themselves rather than reveal their meanings. In this guilty setting of privilege and deceit, Pinter is in his element.

Alexander Walker, Evening Standard




Pinter uses his gift for projecting the imminence of disaster through desultory conversation, without falling into self-parody or distorting the form and spirit of LP Hartley's classic novel. It is a very good film indeed.

George Melly, The Observer