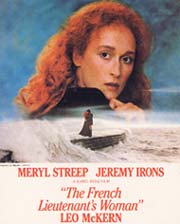 Directed by Karel Reisz
Starring: Meryl Streep, Jeremy Irons
Based on the novel by John Fowles
Screenplay by Harold Pinter published in Collected Screenplays 3
It took director Karel Riesz and playwright Harold Pinter to develop an ingenious method to convey the essence of Fowles's book. The film retells the novel's story, set in 1867 of a strange young woman dishonored by her involvement with a French soldier and the English gentleman who finds her mystery and sadness irresistible. Simultaneously, a parallel story of the affair between the two actors portraying the central roles in a film within a film unfolds on screen.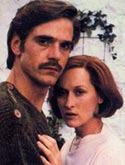 Jeremy Irons and Meryl Streep
Pinter's script eventually obscures the borders between the parallel events. At a party at Mike's home, a guest inquires about the film's ending. The actor can't quite remember whether the director has selected the happy or sad conclusion. Later he mistakenly calls Anna, Sarah.
The unconventional approach to Fowles' novel takes some getting used to but succeeds in conveying the complexity of the original in the final analysis. Writer Pinter has always found novel ways of translating other author's work to the screen as can be seen in his screenplays of The Go-between and The Last Tycoon.
Pinter and Reisz sensitivity to the material has paid off handsomely. The film translation of The French Lieutenant's Woman is both literate, imaginative and visually stunning.
Variety, September 9th 1981