Remembrance of Things Past, Cottesloe Theatre, London, November 2000
Marcel's father - Paul Ritter
Dr Percepied - John Bett
Marcel's garndmother - Judy Campbell
Françoise - Bernadete Shortt
Marcel as a child - Rory Copus/Lewis Crutch
Charles Swann - Duncan Bell
Marcel - Sebastian Harcombe
Marcel's mother - Julie Legrand
Duchess de Guermantes - Diana Hardcastle
Baron Charlus - David Rintoul
Gilberte, Swann's daughter - Beverley Longhurst
The Viscomtesse de Fiacre - Julie Legrand
Rachel - Sophie James
Odette de Crécy, later Mme Swann - Fritha Goodey
Dr Cottard - Paul Ritter
Mme Cottard - Bernadette Shortt
Mme Verdurin - Janine Duvitski
Verdurin - Jim Hooper
Dechambre - Matthew Frankland-Coombes
Albertine Simonet - Indira Varma
Robert de Saint-Loup - Bohdan Poraj
Mlle Vinteuil - Marina Morgan
Mlle Vinteuil's friend - Sophie James
The Marquis de Norpois - John Burgess
The Marquis de Villeparisis - Jill Johnson
Journalist - Branwell Donaghey


Jupien - Steven O'Shea
Delphine - Anita McCann
Gisele - Marina Morgan
Andrée - Hannah Watkins
Léa - Julie Legrand
Léa's friend - Beverley Longhurst
Brichot - Matthew Frankland-Coombes
Charles Morel - Oliver Williams
Mme de Cambremer - Jill Johnson
Duc de Châtellereult - Branwell Donaghey
Cambremer - John Burgess
Queen of Naples - Julie Legrand
Duchesse de Duras - Judith Coke
Duc de Guermantes (Basin) - John Bett
Hotel Manager - Paul Ritter
Maurice - Branwell Donaghey
Julot - Jim Hooper

Director - Di Trevis
Adapted by Harold Pinter and Di Trevis
Designer - Alison Chitty
Lighting - Ben Ormerod
Music played live by Anna Hemery (violin), Dominic Saunders (piano)
Music - Dominic Muldowney
Merci for the dreamy memories
Nicholas de Jongh
Evening Standard, November 24th 2000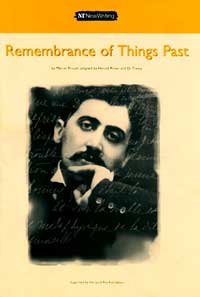 Ravishing is the word for it. Marcel Proust's vast novel, his reminiscence of childhood, love and desire in high French society, has been triumphantly compressed, distilled and transmuted for performance on stage. Those of us who have only dipped into Proust's deep waters and never had the courage to take the plunge will be unable to judge how far Harold Pinter's theatre version, adapted from his never-filmed 1972 cinema script, is faithful to the author. But that's beside the point. Director Di Trevis, which co-adapted Pinter's script, has created a thrilling three hour reverie, a theatrical dream-scape which drifts between the comic and the sad. One man's plays before him an a jumbled rush of scenes, sights and sound that at last capture the essence of his life and lost times.
There's no simple narrative or dramatic line of development to follow. But it's a bewitching process, watching the free-play of Marcel's memory, as envious time ages or kills off old friends and secrets are coaxed into the open. Sebastian Harcombe's fearful, sexually ambivalent Marcel is by turns dejected voyeur and participant in the action. Pinter's script proves once again how brilliant he is at showing how the games of sexual warfare are played and how the techniques of social aggression hit home with just the deadly flick of an adjective. He briskly conveys the provocations of Marcel's beautiful bisexual lover, Indira Varma's Albertine and the supreme haughtiness of David Rintoul's Baron Charlus, who wears his head held high without the morals to match. And in an atmosphere pulsating with all manner of erotic desires. Fritha Goodey's Odette oozes rampant sex appeal. Dominic Muldowney's limpid, Ravel-like piano music sounds elegaic notes. The stage is bare, save for a piano, gold-painted upright chairs, tables with vases of lilies and, on the floor, a picture turned away from us. This Remembrance of Things Past begins appropriately in childhood; a moustachioed, wheezing Marcel catches a glimpse of his unhappy young self, calmed by Judy Campbell's grandmother, when Mr Swann comes visiting. Again and again Miss Trevis emphasises the dream-struck atmosphere by her stylised direction. She freezes the action, with characters rendered as motionless as waxworks tableaux. The older, moustachioed Marcel arrives at the Duchess of Guermante's to find the elderly guests as still as still-life. They flare briefly into conversations with all the ardour of guttering flames.
The grand snobberies and vacuousness of Marcel's aristocratic circle are beautifully caught, too. Diana Hardcastle's gloriously languid Duchess of Guermantes is far too pressed to sympathise with Duncan Bell's dying Swann. But when John Bett's Duke notices his wife is wearing the wrong coloured whose there's plenty of time to change her foot-wear. Janine Duvitski's social climbing Madame Verdurin simpers dutifully in the gracious presence of royalty but is not above malice too. David Rintoul's Charlus is an exquisite comic creation, basking in the higher reaches of camp. In the male brothel, his hankering for humiliation at last betrays his real self.
But it is Sebastian Harcombe's Marcel who makes this Remembrance so memorable. Wreathed in anxiety, dread and sexual insecurity has the air of a man forced to watch his life rushing by in painful retrospect. And in the finale, he catches the ecstatic tones of a man coming home.
The Pint-Sized Proust
Michael Billington
The Guardian, November 25th 2000

Talk about squashing quarts into pint pots! Remembrance of Things Past, at the National Theatre is an adaptation by Harold Pinter's own Proust screenplay written in 1972; and that itself, was a distillation of the 3,500 pages of Proust's oceanic novel. Yet, despite my reservation about adaptations, it works. By the end of the evening, when all the characters inhabiting Marcel's memory assemble on stage insight into the nature of Proust's obsessions. It would be pointless to bang on about what is lost. Characters and episodes from the novel are sacrificed as well as Proust's essays on time, memory etiquette and sexuality. From the screenplay, one also loses the dense web of visual and aural references: in the film script there are 35 shots before a word is spoken, during which Pinter establishes the crucial sights and sounds that form the matrix of Marcel's memory.
Rather than dwell on what is missing, it is more profitable to ask that a staging of Proust can possibly add to our understanding. Tow things leapt out at me from Trevis's fluid and inventive production. One is the sense that Proust's narrator, Marcel, as both a participant in and observer of his own life. Even when Sebastian Harcombe's Marcel is not physically engaged in a scene, you are aware of him as a silent watcher-as if everything is leading to the play's climactic line: "It was time to begin." The stage version also heightens the aspect of Proust most often neglected' his gift for Balmacaan social comedy and astute awareness of the dynamics of class. Mercifully, Pinter and Trevis eschew buttonholing, fist-person narration. But, from the start, they make it clear that we are being admitted to Marcel's memory; we get a stumble in the street, a flurry of snow, and the ring of a garden gate bell. Even if this doesn't possess the richness of the screenplay, it establishes the basic convention. Marcel's constant physical presence also reinforces the point Pinter made in his introduction to the film script - that the events show offer a contrasting movement towards disillusion and revelation 'rising to where time that was lost is found and fixed is found and fixed forever in art.'
But theatre depends on the interaction of human beings in a confined space. By staging Proust, one heightens his awareness of social comedy and historical time. He was writing about France during the Third Republic and about the showdown between an ascendant bourgeoisie and a declining aristocracy. It was a battle of rank and status being fought out in the fashionable salons. And, while some see Proust as an elitist snob, Walter Benjamin was nearer the truth when he talked of 'the hardness of his work, the intransigence of a man who is ahead of his class.'
This Proustian hardness is what comes out most strongly here. The opening party at the Gueramante's house in 1921 represents the vindictive triumph of the bourgeoisie; aristocrats gossip on gilt-framed chairs about death and decay, and a haggard vicomtesse staggers by high on cocaine while the newly-risen hostess engages avant-garde dancers to provide a chic cabaret.
Proust, you feel had an equal dislike for both the declining bluebloods and the emergent bourgeoisie. In time Regained, he writes, 'I had seen enough of fashionable society to know that it is there one finds real illiteracy and not, let us say amongst electricians.'
This version also pinpoints the emotional coarseness in smart salons. One of the best scenes comes when Duncan Bell's wonderfully melancholic Swann tells the Duchesse de Germane he will not be able to accompany her on an Italian holiday because of his impending death; her husband us for more horrified by the discovery that the duchesses is wearing black shoes with a red dress.
But adaptation is also a form of self-revelation; and one of the themes Pinter excavates in Proust is the ultimate unknowability of the sexually undesired. Marcel is haunted by Albertine's possible lesbianism and Trevis's production makes this a dominant motif. The scenes at Balbec are beautifully done, with the band of sailor-suited girls forming a playful caressing coterie. And, after Albertine's death, Marcel's interrogation of her friend Andree about their putative sapphism is played from multiple angles. The emphasis on male insecurity and sexual ambivalence, while deriving from Proust, echoes Pinter's Old Times. Inevitably in a stage adaptation it takes time for the Proustian pattern to become clear; we get fragments of Marcel's memory, which only make sense at the end-when he itemises the sights and sounds that unlock his past and when Alison Chitty's design reveals the complete version of Vermeer's View of Delft, which has haunted the evening. But each episode is rendered with clarity and there is a clutch of fine performances from David Rintoul as a solidly dignified Baron Charlus, Fritha Goodey as Swann's faithless but beautiful Odette, Janine Dusvistki as the upwardly mobile Madame Verdurin and Jill Johnson as a succession of high - chinned aristocratic snobs.
It may not be the whole of Proust; but the evening offers a vivid, lovingly created theatrical epitome that highlights his ruthless social comedy and his obsession with what Beckett called 'that double-headed monster of damnation and salvation-Time.'
Back To Plays Main Page