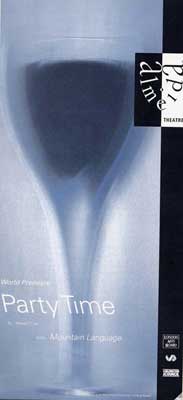 Programme Cover
First performed by the Almeida Theatre Company
at the Almeida, London 31 October 1991 with Mountain Language
subsequently produced for Channel 4 17 November 1992
see Directing Films and TV

Terry - Peter Howitt
Gavin - Barry Foster
Waiter - Kevin Digman
Dusty - Delia Roche
Melissa - Dorothy Tutin
Charlotte - Nicola Pagett
Liz - Tacye Nichols
Waitress - Rebecca Steele
Fred - Roger Lloyd Pack
Douglas - Gawn Grainger
Waitress - Amelia Blacker
Jimmy - Harry Burton

Directed by Harold Pinter

Design - Mark Thompson
Lighting - Mick Hughes
Sound Score - Dominic Muldowney
Review by Michael Billington
Party Time, getting its world premiere, is set in smart, fashionable London. Gavin, a suave power-broker, is throwing a party at which his guests prat-tle of exclusive health-clubs, idyllic island retreats, past romantic liaisons. Meanwhile in the streets outside there is a violent disorder which is being savagely suppressed. Finally the external world intrudes in the shape of a burning white light and the vehement pres-ence of Jimmy, brother of one of the guests, testifying to the merciless extinction of dissent.
So what is Pinter saying? Not, I think, that Britain is sliding into Fascism. What he offers is an image of a style- conscious, narcissistic, bourgeois society cut off from and culpably indifferent to the in-tolerance and squalor of the outside world. I was constantly reminded of those Bunuel films in which the privileged are sealed off from reality; and Pinter's point is surely that our lives are increasingly governed by an apolitical materialism in which it is uncool to get het up about injustice and corruption.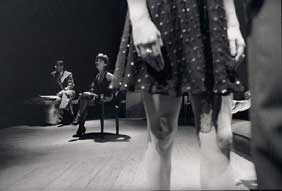 Roger Loyd Pack, Nicola Paget, Delia Roche
photo Ivan Kyncl
What is impressive is how much Pinter crams into a short space. For he also suggests that, under the drawing-room elegance, private relationships echo public brutality. Terry, a yuppified Cockney, verbally savages his wife for asking after the fate of her dissenting brother. And, in a richly comic passage, Terry praises the har-mony of the health club where people don't do offensive things adding "and if they do we kick them in the balls and chuck them down the stairs with no trouble at all". Pinter depicts a world of increasing moral coarseness and spiritual barbarism where even the death of old friends is seen as a minor matter compared to expiration of beloved clubby institutions.
In four short scenes, Pinter pins down superbly the closed, uninformed mind and, in this version, banishes the consoling myth that it couldn't happen here.
The Guardian 8 November, 1991