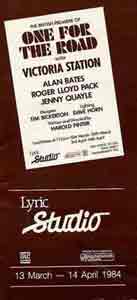 Programme Cover
One for the Road was first performed at the Lyric Studio
Hammersmith 13 March 1984
Nicolas - Alan Bates
Victor - Roger Lloyd Pack
Gila - Jenny Quayle
Nicky - Stephen Kember and Felix Yates
Directed by Harold Pinter

Designer - Tim Bickerton
Lighting - Dave Horn
Power, No Glory
Giles Gordon
Harold Pinter's new play, One for the Road, runs for 45 minutes and is being shown at lunchtimes only. Its emotional impact in the author's precisely modulated production is akin to that of a great rendition of King Lear. It is as necessary and inevitable a 20th-century work as Koestler's Darkness at Noon.
There are four scenes, resembling in power and intensity some of Francis Bacon's more disturbing canvases. Mr Pinter's use of language - words. Sentences, the pauses between syllables - is as scrupulous as ever but what, perhaps, is new is a devastating moral force. Alan Bates plays Nicholas, head of the secret - or maybe not secret - police in a country that could be, and probably is, anywhere; which is not to say nowhere, but everywhere. In the first scene the smooth brute interrogates Victor, in the second his wife Gila, in the third their seven-year-old son Nicky, and in the fourth Victor again. Husband and wife are hideously tortured but not in the neurotically tidy office in which they are interviewed. The only suggestion Tim Bickerton's set that this isn't an ordinary room is the window high up in the wall. The torture we witness is entirely verbal. The crime is not stated, less an accidental or devious omission than to emphasise Mr Pinter's view that the world is increasingly a police state, that if those in control don't like your face, your politics or your style you're better off dead. Nicholas hates his victims, too, for having used their minds; being, I suppose intellectuals.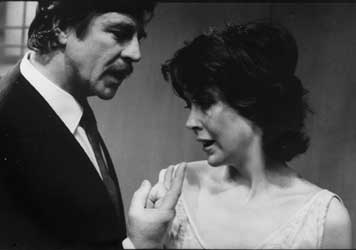 Alan Bates and Jenny Quayle
Photo Ivan Kyncl
He sees himself as, almost, ultimate authority and rightness: 'The voice of God speaks through me'. His ambition is 'to keep the world clean for God'. He's plainly as crazy as Shakespeare's Richard III. His odious interrogation of the child ('Where's Mummy?' suddenly asks the boy) echoes the imprisonment of the Princes in the Tower, and Nicky's face is sealed when Nicholas discovers that the child, son of traitors, had the effrontery to possess his Christian name.
Mr Bates's lounge-suited policeman mostly chats away to the prisoners as if he's conducting job interviews. He drinks an infinite number of whiskeys for the road, and is utterly, discreetly ruthless without showing emotion except the occasional facial twitch. Roger Lloyd Pack is the broken and humiliated body of the ironically named Victor. As Gila, Jenny Quayle's mouth hangs wide open as if her utterly beautiful face, lit from within, would split in twain were she able to scream. Once she does, losing control for a moment before reverting to a state of appalled shock.
It is the most terrible play, at times nearly unbearable to sit through. Unlike so much of the work of Edward Bond, which just disgusts, it floods the mind with despair., the eyes with tears, the stomach with sickness, the heart with dread.
One for the Road is preceded by Victoria Station, which seems as funny but more profound than it did in its original Cottesloe production. Mr Lloyd Pack is the mini-cab drivers' controller, Mr Bates the bemused driver. In this play words and language fail to unite the characters in any kind of understanding, in the other they are weapons of destruction. 'Why has the world ceased to listen, feel or use its mind?' is what Mr Pinter's work asks.
The Spectator 24 March 1984
Reproduced courtesy of the Spectator