Old Times (2004)
Donmar Warehouse,London, UK

Programme Cover

Directed by Roger Michell
Set Design by William Dudley
Lighting Design by Rick Fisher

Cast:-
Helen McCrory as Anna
Gina McKee as Kate
Jeremy Northam as Deeley

Review - Daily Telegraph Thursday 8th July 2004
A MASTERPIECE HAS FOUND THE PRODUCTION IT DESERVES

So many of Pinter's plays inhabit a predominantly masculine world, in which one chap is always trying to get one over another. The rooms in which his dramas are set become battlegrounds - for territory, possession and control.

But in what for me are undoubtedly his greatest dramas, women emphatically make their presence felt, too. You only have to think of Betrayal, The Homecoming and of course, this piece, Old Times (1971), to realise what a master Pinter is at conveying the thrill, the mystery and the destructive force of desire.

His work can be viewed as a series of illustrations of various forms of bullying and intimidation, whether at a personal or a political level, and these persistent motifs are certainly present in Old Times. But so too is a seam of dangerous, provocative sexuality and a fascinating analysis of memory - its almost hallucinatory clarity, its possible unreliability and the devious uses to which it can be put.

Roger Michell brings out all these qualities in his grippingly assured production, in which every word, not to mention every pause, is made to count. The action lasts only 80 minutes, played straight through without an interval, but you leave the theatre in no doubt that you have encountered a brilliantly controlled, tantalizingly enigmatic masterpiece. There is no other play quite like it, in Pinter's collected works, or anyone else's.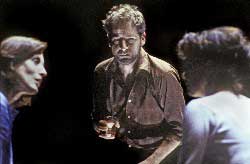 Gina McKee, Jeremy Northam Helen McCrory
Photographer: Ivan Kyncl

The action is set in a converted farmhouse with extended views, in William Dudley's chicly minimal, almost monochrome design of a tidal river and bleak flat countryside. The entire acting area is surrounded by a gauze, so that the characters seem to be both distanced from the audience, and trapped.

This is the not-quite-naturalistic home of Deeley, a film-maker, and his wife, Kate, a couple who have been married for 20 years. Their rural fastness, however, is invaded, in characteristic Pinter fashion, by a third party, Anna, who used to share a room with Kate when they were young secretaries in bohemian London, and has now come to visit.

This piece becomes a battle for the possession of Kate - it quickly becomes clear that Anna loves her every bit as much as her husband - and a meditation on the impossibility of ever fully knowing the object of our desire.

Deeley finds himself excluded from Anna's accounts of the early life she shared with his wife, a round of theatres and concerts, painters and poets. But are Anna's memories reliable, or is she making them up simply to infuriate her friend's husband? As Anna declares, in the play's key lines: "There are some things one remembers even though they may never have happened. There are things I remember which may never have happened but as I recall them so they take place."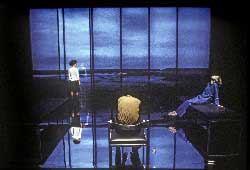 Helen McCrory, Jeremy Northam & Gina McKee
Photographer: Ivan Kyncl

These are deep, dark waters, where memory mixes with desire, and Deeley learns to fight back by inventing challengingly confrontational recollections of his own. While this battle of wills is going on, Kate remains almost silent, though she does complain that she is being talked about "as if I were dead". But it is she who turns the tables on those who seek to possess her in the devastating final scene in which invented memories suddenly seem to take corporeal form.

The performances are superb. As Anna, Helen McCrory brilliantly suggests the destructive subtext beneath her vivacious and apparently harmless chatter, as well as powerfully signaling the depth of her love for Kate. Gina McKee, beautiful, languorous and inscrutable as a cat, makes her character's detachment both fascinating and highly sexy, while Jeremy Northam powerfully captures both the blustering braggadocio and the mounting desperation of a man who discovers he has no key to his wife's soul.

This haunting, poetic and often blackly comic play has found the mesmerizing production it so richly deserves.

By Charles Spencer
Back to plays Main Page