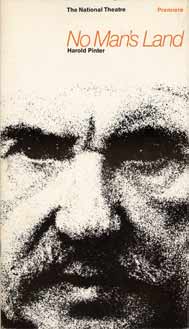 Programme Cover
First produced at the Old Vic, Waterloo by the National Theatre, 23 April, 1975 transferred to Wyndhams Theatre July 1975 - January 1976 Lyttleton Theatre April -May 1976 - New York (see foreign) October - December 1976 Lyttleton Theatre January -February 1977
Hirst - Ralph Richardson
Spooner - John Gielgud
Foster - Michael Feast
Briggs - Terence Rigby
Directed by Peter Hall

Designer - John Bury
Staff Director - Sebastian Graham-Jones
Production Manager - Martin McCallum
Stage Manager - Jackie Harvey
Review by Michael Billington
Harold Pinterís new play, No Manís Land, is about precisely what its title suggests: the sense of being caught in some mysterious limbo between life and death, between a world of brute reality and one of fluid uncertainty. But although plenty of plays, from Sweeny Agonistes to Outward Bound, have tried to pin down that strange sense of reaching into a void, I can think of few that have done so as concretely, funnily and concisely as Pinterís.
All Pinterís plays are to some extent about the invasion of territory; and this is no exception. The setting is a curved, opulent room on a summer night in Hampstead. Hirst, a rich, famous belle-lettrist, has invited into his room a shabby, beer-stained poet Spooner, whom he has apparently picked up in Jack Strawís Castle.

Hirstís amanuensis, full of flash patter reminiscent of Lenny in The Homecoming, and his burly, free-swearing manservant resent the intrusion of this coarse outsider into their world of silk, organdie and eighteenth century cookery books. But, as night turns into morning, it transpires that Hirst once seduced Spoonerís wife, that Spooner wishes to penetrate this closed, elite circle and that all four characters are permanently frozen in time like the figures in Keatís Ode On a Grecian Urn.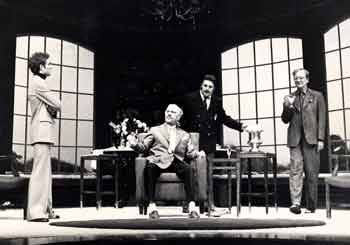 Michael Feast, Ralph Richardson, Terence Rigby and John Gielgud
In one way, the play is a masterly summation of all the themes that have long obsessed Pinter: the fallibility of memory, the co-existence in one man of brute strength and sensitivity, the ultimate unknowability of women, the notion that all human contact is a battle between who and whom.
It is in no sense a dry, mannerist work but a living, theatrical experience full of rich comedy in which one speech constantly undercuts another: a devastating four-letter work indictment of Spooner, for instance, is followed by Hirstís ëyes, yes, but heís a good man at heart: I knew him at Oxfordí and the minutely-timed laugh would not disgrace Jack Benny, Pinterís achievement , in fact, is to have treated comically a theme that most writers tackle with sententious gravity: that at any moment in time the ërealí, tangible world may turn out to be an illusion.

Peter Hallís metronomically precise production also brings out the extraordinary contrast of images that is part of the key to the play: outside a world of country cottages, sunlit lawns, bucolic gaiety, inside hothouse order, ostentatious wealth, endless booze. Amongst the plays many themes, I suspect Pinter is also saying that the money, luxury and the privileges of literary success are themselves a death-in-life.
Ralph Richardsonís Hirst, contrasting a peppery, ramrod-backed power with chilling geriatric collapses and exits on all fours, has precisely that other-worldliness that makes this actor such a magician; and John Gielgudís Spooner, with the creased, tobacco-breathed quality of the kind of Forties Bohemian you meet in BBC pubs is superbly, sly, mellifluous and ingratiating.
The Guardian 24 April 1975