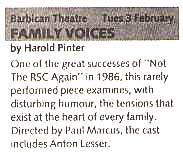 From Barbican Programme
At the Lyric Studio, Hammersmith and at the Barbican Theatre, (lunchtimes) February and April 1987
Voice 1 - Anton Lesser
Voice 2 - Ruby Head
Voice 3 - Mark Dignam
Directed by Paul Marcus
Lighting by Paul Highfield




Voices in the dark
Giles Gordon

Out of the dark they come, Harold PinterÝs three Family Voices at the Lyric Studio, Hammersmith, and sit ˝ embodied voices ˝ on chairs, as if portraits for a Bacon Triptych.
To the left is voice 1, a young man (Anton Lesser). As he begins to speak, his face is lit, his legs and feet slither away, slug-like. To the right is Voice 2, an elderly woman, his mother (Ruby Head). Between them, higher up and at right angles to them, posed like WhistlerÝs mother, is voice 3, an elderly man (Mark Dignam). He is the womanÝs husband, speaking from the grave.
The young man has left home, and writes letters to his parents. His motherÝs letter telling him of his fatherÝs death has not been received. He gradually discovers a contented family life in the city where he is billeted. Lesser describes with relish, then bemusement, the house and its inhabitants where he finds a temporary peace. Head regally portrays an aristocratic of the middle ˝ classes not understanding that the next generation has to find, for a time, a world elsewhere. And Dignam laughs from the grave.
The voices return to the blackness. Are family ties more or less than words? Family Voices (1983) is a resonant, evocative chamber piece ˝ precisely directed by Paul Marcus, sensitively lit by Paul Highfield ˝ performed in this lunchtime production with skill, commitment and love.
London Daily News, 24th April 1987