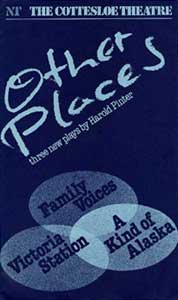 Programme Cover
Family Voices, under the title of Other Places (Collection of Three Plays), Cottesloe Theatre, London, October 1982, in a triple bill with Victoria Station and A Kind of Alaska

Voice One - Nigel Havers
Voice Two - Anna Massey
Voice Three - Paul Rogers
Director - Peter Hall
Design and Lighting - John Bury
Stage Manager - John Caulfield
Staff Director - Kenneth Mackintosh

Production Manager - Jason Barnes



"The young man on whose (unuttered?) thoughts or (unwritten?) letters addressed to his mother we eavesdrop throughout Family Voices has chosen his other place. It is a substitute home, with all the glamour that burgeoning fantasy can confer: the social glamour of the scarlet Lady Withers and her icily familiar patronage, the sexual glamour of Jane, and the mother-comforts of the boozily grieving Mrs Withers, her romantic past and penchant for a cuddle. Throughout the bulletins, the abandoned mother of 'real life' moves from desolation to piqued possessiveness in her replies, and her son's old dependency steadily reasserts itself; not, if it is clear, out of sympathy for her plight, but out of growing unease with his own set-up.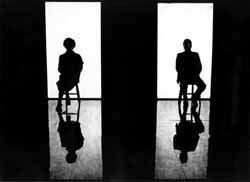 Anna Massey and Nigel Havers
The young man may be getting his Withers wrong; or so the shift of real tension and inventiveness, away from this comedy of ambivalence in his dealings with the ladies, onto his encounters with the even more alarming menfolk, would imply. 'I could crush a slip of a lad like you to death, the death I understand love to be', says one, a 'big man', a 'policeman by trade' called upon to exert breathtaking self-discipline in the interests of staying on the right side of God; 'This is a place of creatures up and down stairsÖa catapulting ordure of gross and ramshackle shenanigans, openended paraphernalia. Follow me?' opines the other, older occupant. In the face of such grotesque passion and conviction the young man's jauntily-affected knowingness melts away: he will return to the fold, the venomous ministrations of his mother, the vengeful shade of his father who died 'in lamentation and in oath' and whose voice speaks the most chilling words of the piece: 'What I have to say to you will never be said'. This small comic-horror masterpiece, first seen and heard last year, is expertly revived with Nigel Havers taking the part then played by the suavely thuggish Michael Kitchen: Havers seems less capable of having made it all up, but is no less compelling for that. "
Alan Jenkins
The Times Literary Supplement, 29 October 1982
with kind permission