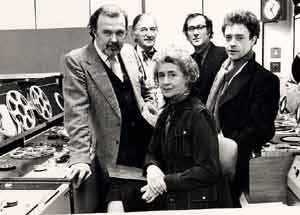 Peter Hall, Mark Dignam, Peggy Ashcroft, Harold Pinter and Michael Kitchen
First produced 22 January 1981 on Radio 3

Voice 1 - Michael Kitchen
Voice 2 - Peggy Ashcroft
Voice 3 - Mark Dignam
Director - Peter Hall
Family Voices was subsequently presented in a 'platform performance', by the National Theatre, London, 13 February 1981, with the same cast and director, with decor by John Bury
Family Voices was later presented as one of three shorts in Other Places at the Cottesloe Theatre 1982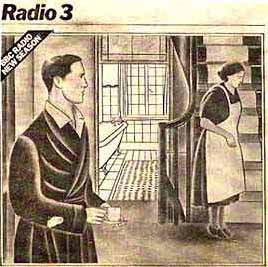 "It's got a lot to do with the landlady, who is a Mrs Withers, a person who turns out to be an utterly charming person." Family Voices 10.0pm (from The Radio Times January 1981)
Kaleidoscope Review Radio 4, January 1981
Chairman - Michael BillingtonSpeakers - Edward Lucie-Smith, Allan Massie, Gillian Tindall
Presenter - Natalie Wheen
Producer - Philip French
Transmission date- Wed 21st January 1981
Transmission time - 21:30-21:59

Review by David Wade
This was the first of six forthcoming National Theatre productions which are to be presented in advance on BBC Radio, and that the enterprise should start with a new play by Harold Pinter seems, for tow reasons, especially appropriate: here is a writer who made a start in radio; here is one who, at least in his recent work, had been able to meet the demands of both stage and sound broadcasting in the same script. In Family Voices he successfully met them once again.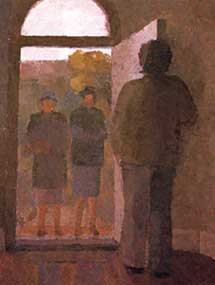 Guy Vaesen illustrations
from Family Voices illustrations for 'Next Editions', published 1981
Even from the opening words, 'I am having a very nice time', it was impossible not to register a faint sense of disquiet, to entertain the suspicion that this banal utterance would turn out to meansomething other than what it said. In the ensuing 40 minutes that suspicion gained a certain amount of ground. Set mainly in the form of alternating excerpts from a correspondence between mother (Peggy Ashcroft) and son (Michael Kitchen), it departed from this only to include two speeches by the boyÝs recently dead father (Mark Dignam). Both parties soon revealed that no such correspondence was taking place, not from the mother because she did not know where her son had got to, not from him because, for reasons only hinted at in passing but suggesting escape from a stifling relationship, he had cut himself off from his parents, possibly to the extent of ignoring his fatherÝs death. On her side expressions of loving concern quickly gave way to bitterness, reproof and finally to the assertion that 'the police are looking for you', set on apparently by her belief that 'you are in the hands of underworld figures who are using you as a male prostitute'.But in whose hands is he? This is the house where he has a room, a house occupied by Withers, an old man apparently mad; Riley, a younger man who says he fancies him and claims to be a policeman with a taste for religion; and three women, one old ˝ Mrs Withers, one younger ˝ Lady Withers, the last a girl ˝ Jane. How they are related remains puzzling, but Lady Withers dresses principally in red and occupies a luxurious dark-blue room. It is here that the young man is asked to tea to find the room dotted with cakestands bearing buns, one of which, as hard as granite, drops from his teeth as he attempts a bite, only to be caught and juggled with her feet by Jane who up to then had been employing them to prod his thighs.

It was also here and at this point that I thought Mr Pinter edged a little closer to absurdity than was entirely good for the remainder of the play. He struggled back to terra firma, however, and convincingly enough to make his hearers quail a little at the sonÝs declared intention to go home to a mother who had just announced of her prodigal that 'you will be found, my boy, and no mercy shown you'.
The Times, 23rd January 1981