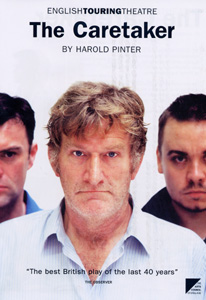 Programme Cover
Directed by Gari Jones
Designed by Pamela McBain
Sound Designed by Olly Fox
Lighting Designed by Ben Ormerod
Cast
Malcolm Storry as Davies
Julian Lewis-Jones as Aston
Lee Boardman as Mick

Tour Venues
Malvern Festival Theatre
The Lowry, Salford Quays
The Oxford Playhouse
Theatre Royal, Bury St. Edmonds
Warwick Arts Centre, Coventry
New Wolsey Theatre, Ipswich
Greenwich Theatre
Blackpool Grand Theatre
The Birmingham Post - October 2001
The Caretaker, Malvern Festival Theatre
Winning version of a masterpiece.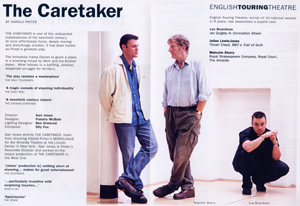 Julian Lewis-Jones, Malcolm Storry and Lee Boardman
Harold Pinter's masterwork receives a fine showing in this opening production of the current tour by English Touring Theatre, whose award winning production of Ibsen's The Master Builder will always remain firmly locked in my memory. And memory is a key structure within Pinter's play, where a struggle for territorial rights lies at its heart. The homeless vagrant, Davies (Malcolm Storry) is searching for some kind of peace with congenial people and he claims a bed in a room which is little more than a tip. He remembers Sidcup continually as a dream world which he must return to since his papers lie there. But the room is inhabited by Aston, a disturbed character who reveals that he is brain damaged after a course of electric shock treatment. Yet within a limited response, Aston is capable of simple acts of human kindness which are shown towards the much older man Davies. For Aston (played with a deep sense of the character's tragic complexity by Julian Lewis-Jones) the world revolves around the construction of a garden shed. The moment when Aston describes his experiences in a mental hospital are Pinter at his finest. Mick (Lee Boardman) is the third character - Aston's brother and owner of the room. Evasive, spasmodically violent and a jack-the-lad fantasist, Mick uses dialogue where much is implied below the surface of what we hear. Mr. Boardman plays well but there is room for much more menace than we see here. Given the fact that he took over Davies a matter of days ago, Malcolm Storry turns in an outstanding performance in conditions which could not have been more difficult and this fine actor deserved the bravos he received on opening night. Still there is room for a little more ageing. As the play runs in, all performances will deepen and change within Pinter's marvellous language structures. But, as it stands now, it seems to me ETT has once more come up with a winner. Richard Edmonds.