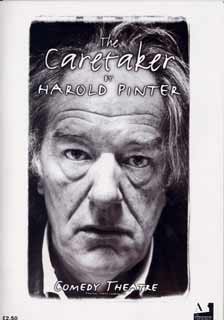 Programme Cover
The Caretaker, Comedy Theatre, London,
November 2000 - February 2001

Mick - Rupert Graves
Aston - Douglas Hodge
Davies - Michael Gambon
Directed by Patrick Marber
Designer - Rob Howell
Lighting - Hugh Vanstone
Sound - Simon Baker for Autograph Sound
Associate Director - Gari Jones




A master produces a master's work
by Alastair Macaulay
It is in their startling contrasts of scale that the plays of Harold Pinter show his mastery. The talk in The Caretaker is largely of Sidcup, bus routes, the drip from the ceiling, and so forth. The rhythmic precision with which this small talk develops is brilliant and, very often, wonderfully funny. Then out of this trivia there suddenly appear dismaying struggles for power, a tale of psychological trauma, appalling displays of malice and manipulation. The massive contrast of scale between the smallness of talk and the vast moral abysses that suddenly open up between the characters is shocking.
Now, the young playwright/director Patrick Marber whose first two plays, Dealer's choice and Closer, show more mastery than any other work of any other British playwright to have emerged in the past 10 years has staged a superb production. All three actors Michael Gambon, Douglas Hodge, Rupert Graves are brilliant, and Marber, whose own sense of rhythm and scale is so fine, reveals within this always disturbing play a new kind of tragic force.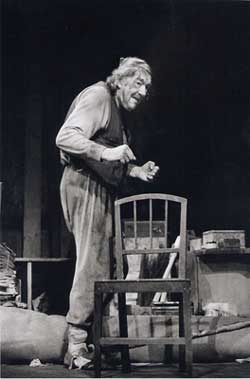 Michael Gambon
photo Ivan Kyncl
At the dark core of it all is Gambon's extraordinary account of the title role. Gambon can be the most viscerally affecting of all British actors today, and there are passages here where you feel shaken by him throughout your very body. He has made himself appalling to behold: the face scarred, sagging, pitted, the body tilting and tumbling. Then out from this vile and bloated worm comes this voice, now wheezing, now titanic. He has conceived for this tramp a deliberately peripatetic accent that strays, often in mid-sentence, from Connemara to Liverpool to Swansea to Hackney. Actually, this accent is one of the few flaws in a great performance: one is too aware of the actorly concept, of the art that fails to conceal art. But this is great acting, and its greatest achievement is its colossal capacity for malign and aggressive force.
This petty character Davies becomes, with Gambon, a character like Alberich in the Ring. While Aston opens up and tells his own bleak story of psychiatric suffering, Gambon/Davies just watches, unmoving, eyes narrowed, deadly, like a bird of prey.
Douglas Hodge has done nothing finer than this Aston. From the moment he appears, the terrible constraint of the character is there before you: the shadowed, suffering eyes, the stony brow and unmoving face. His voice alternates between light vulnerability and a lower stubbornness; and his pacing of the words shows, enthrallingly, the strange efforts he has to make his thought cohere.
Just as marvellous is Rupert Graves as the spiv Mick, pouring out words in shimmering skeins of ludicrous braggadocio flash. Rob Howell has designed a marvellously cluttered attic set. Nothing in the West End theatre can match the power, the wit, and the anti-humane humanity of this production
The Financial Times, November 2000
At his convenience
by Ian Smith
Forty years after its first production, The Caretaker is an acknowledged literary masterpiece. A finished and coherent poetic drama in staccato free verse, it has prominent place in the slender trophy cabinet of English modernism. These days it can be overlooked that the play was also a commercial triumph in 1960, with critical acclaim almost drowned out by audience laughter. The Sunday Times printed an open letter to Pinter from its book reviewer Leonard Russell, for whom the present enigma of the evening was not the play but the audience. Russell admired the farcical treatment of 'a heart-breaking theme', but was disturbed by 'gales of happy, persistent...indiscriminate laughter', and wondered if the author had intended such an atmosphere of 'rollicking good fun'.
This latest revival, directed by Patrick Marber, gives some idea of that rollicking original atmosphere. At its best, it shows that this is at least one poetic drama that works better on the stage than on the page. It suggests that the best way to play Pinter is as dynamic theatre, presenting not a verbal enigma but comedy, suspense, physicality and pathos. Far from skimming or simplifying, this allows the subtlety of the play to breathe. Each actor gives a strong reading of a major part, and each character has a story, ensuring that this is never a play in which nothing happens. A tramp is offered temporary lodgings, and stays for a fortnight until he is finally ejected. But there is much more to is than this in terms of character and plot rather than allegory or symbolism. Michael Gambon, as the garrulous tramp Davies, is disgusting, threatening and manipulative, though his wit and his vulnerability demand sympathy. Douglas Hodge as the painfully incommunicative Aston, who offers Davies shelter in his junk filled room at he top of a semi-derelict house, shows a man beginning to emerge from crippling depression. Rupert Graves, as Aston's younger brother Mick, owner of the house, finally looses his cool, but finds his relationship with his brother revived.
It may no longer shocking to see a tramp on the West End stage, but Gambon's Davies is certainly in a shocking state. In Donald Pleasence's film characterisation, we see the remnants of scrupulousness and self-respect when Davies says he got soap from the man in Shepherd's Bush 'convenience'. But when Gambon delivers the same line, we see only the brown stain on his trousers. As on would expect, his stature is threatening; this Davies is bug enough for a fight. In Act One, when Aston goes out, and touchingly trusts Davies to stay behind, Gambon ransacks the room, driven not by curiosity but by a primitive urge to steal. He is quite strong enough to cope with bad weather, as it is soon clear that he has no real wish to leave for Sidcup to reclaim his fabled 'papers'. He will sponge for as long as he can, and when told on the second morning that it is still raining, he hugs the bedclothes like a schoolboy looking for the day off. Gambon's purpose and energy make sense of Davies's changing personae and self-contradictions. At first, he is ingratiating; then, confronted by Mick, he attempts to conspire against Aston. He will be intolerable is he stays, but will fight eviction with whatever means comes to hand.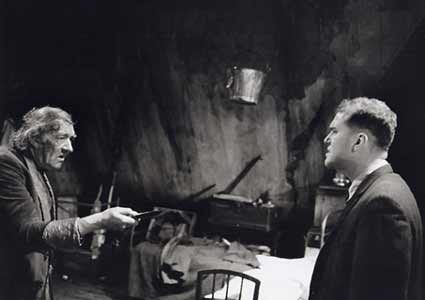 Michael Gambon and Douglas Hodge
photo Ivan Kyncl
As Mick, the builder-landlord who refuses to turn against his wounded brother, Rupert Graves is less witty than the original Alan Bates (also filmed alongside Pleasence). The dazzling speeches of Acts Two and Three are delivered as rapid-fire bullying, always directed at Davies rather than at the audience. There is narcissism here, but it is that of the character, not of an actor giving a flamboyant performance; the final outburst has been prepared for by the early brittleness. Graves also turns Mick into a convincing version of an historic type the good-looking working-class boy on the make in the social and economic flux of the early 1960s.
Aston offers other difficulties. Aside from the long speech that closes Act Two, he has little to say, and yet he is essential to the play's concluding note of warped optimism. Though Aston's generosity and trust are both betrayed, they are also obscurely rewarded; the struggle with Davies had a galvanising effect, and it is Aston, roused from near-catatonic stupor, who finally forces Davies to leave. Hodge gives admirable shape to the role from beginning to end. His two failed anecdotes in Act One are absurd parodies of male bonding over talk of women and drink, but Hodge makes them work as signs that Aston wants to start talking and living again. The acid test for a Mick-Aston partnership is that of the play's denouement, which hinges on their final exchange, one of smiles rather than of words. Hodge and Graves turn an enigmatic linguistic pause into a convincing moment of physical drama in which their brotherly trust is reaffirmed.
Theatricality is central to these characters' lives. Both the main power struggle in The Caretaker and the less obvious struggles to find love and fend off depression are fought with weapons of rhetoric, impersonation and display. The three men struggle to occupy space, build sets and dress up. They neither undermines the action, nor highlights its artificiality. Rather, the play insists that human life and aesthetics are inevitably tangled. The effect is not to alienate the audience but to pull us in: to convince us that theatre is a necessary forum in which to address moral and emotional issues of significance. The Caretaker draws masterfully on a modernist heritage: the bricolage, objets trouvés, stylisation, bathos, difficulty and self-consciousness are all there. And in this production we see how it unties a cerebral modernism with the traditions of realism and of the well-made play the theatre in which Pinter acted for the first of his five working decades.
The Sunday Times, November 2000