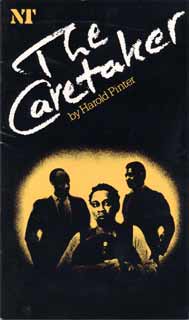 Programme Cover
The Caretaker, Lyttelton Theatre, London, May - June 1981

Mick - Troy Foster
Aston -Oscar James
Davies - Norman Beaton
Directed by Kenneth Ives
Settings - Eileen Diss
Costumes - Lindy Hemming
Lighting - Mick Hughes



Marvellous Pinter in Another Colour
Review by John Barber
The three actors who are performing The Caretaker at the Lyttelton are all black. This brings an altogether new flavour an altogether new flavour to a marvellous play. The humour seems more acid and the sadness becomes fierce.It is just 21 years since Harold Pinter created that junk-filled and derelict suburban room and the odious tramp Davies befriended by the dim-witted but kindly tenant who gives him a bed and then slowly realises his protégé is a malicious, lying ingrate with no trace of a talent for sharing living quarters.
There is a lifetime of squalid guile in Norman Beaton's Davies. But the actor also makes us see how pitiable the creature is, as he desperately struggles for the caretaker's job by making trouble between two brothers, his benefactor, Aston and the teasing, viciously cruel Mick, owner of the house.
Some of the verbal subtlety of Pinter's chamber music is lost when the three characters' idiom acquires Negro rhythms. The author looks at speech as a constant stratagem to cover nakedness, and sometimes a sly,anguished or mocking smokescreen. Here the stratagem is at times too blatantly violent and the smokescreen so dense as to become impenetrable.
But the fact that they are black gives an added vigour to Troy Foster's jumped-up slum careerist and seems to add to the dumb dignity of Oscar James's lobotomised Aston.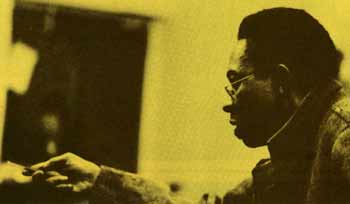 Norman Beaton
The dialogue also acquires an ironical comic slant from the trampís scornful references to the dirty blacks downstairs who foul up the lavatory.
But Pinter's intentions are honoured: Mick's talk of bus routes covers his vicious purposes, while Davies's confusions about his name and his lost 'papers' in Sidcup betray a mind in delinquence.
What impressed me most was Mr. Beaton's presentation of Davies as a victim. Standing silent with the face of a wrinkled monkey, clutching the bag of his belongings under his arm, his hoarse voice grates out, just before he is finally evicted. 'What shall I do? Where am I going to go?'

There is no sentimentality in the performance. The questions are urgent. And their effect is piercing.The direction, by Kenneth Ives, is somewhat slow-paced but it is somewhat slow-paced but it is full of delectable comedy. And, as always when well done, the play remains a masterpiece.
The Daily Telegraph, 27th May 1981