Set designer - Eileen Diss
Lighting designer - Mick Hughes
Sound designer - John A. Leonard
Costume designer - Dany Everett
Celebration
Lambert - Keith Allen
Julie - Susan Wooldridge
Matt - Andy de la Tour
Prue - Lindsay Duncan
Russell - Steven Pacey
Suki - Lia Williams
Waiter - Danny Dyer
Waitress - Nina Raine
Waitress - Katherine Tozer
Richard - Thomas Wheatley
Sonia - Indira Varma
The Room
Rose - Lindsay Duncan
Bert Hudd - Steven Pacey
Mr Kidd - Henry Woolf
Mrs Sands - Lia Williams
Mr Sands - Keith Allen
Riley - George Harris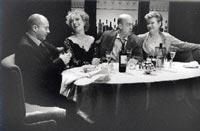 "As a director, he will let things run for a long time. We rehearse at first on quite a superficial level because he likes to see the whole. He1ll let you go on for ages with a wrong emphasis, or something, simply to see or to let you alone [...] He'll finally correct that emphasis with a warm wry smile and 'I think you1ll find if you do it like this, it will work better.'"
Lindsay Duncan to Kate Bassett, The Daily Telegraph, 18 March 2000.
"Directing his own work he is very accurate, acute, and economical. Razor sharp - but he's a pussy cat. He is extremely sensitive because he is an actor himself - an extraordinary combination of sensitivity and laser-sharp vision."
Lia Williams, Hot Tickets, 16 March 2000.
(Celebration) "In another Pinter play, we might feel the ground opening appallingly under their feet. Here, however, Pinter takes it as a brisk lick, and the audience roars, from 'panties' on."
Alastair Macaulay, The Financial Times, 23 March 2000.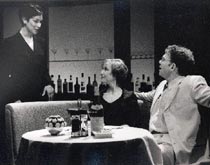 (Celebration) "Pinter himself directs with a sense of fierce but unostentatious accuracy. The actors are superlatively and selflessly in harmony with each other: this is impeccable ensemble work, but full of chiselled individuality."
John Peter, The Sunday Times.
"Pinter's direction of Celebration is meticulously charged with gaiety and quick-fire exuberance, while in The Room he achieves a spell-binding air of menace."
Nicholas de Jongh, The Evening Standard.
"It is amazing to find that 33 years later, the play is more relevant today in all sorts of ways. It still has great power. The first time we did The Room, people were saying: 'What does it mean?' - I didn1t realise this would become a habit with all of his plays."
Henry Woolf to David Nathan, The Jewish Chronicle, 24 March 2000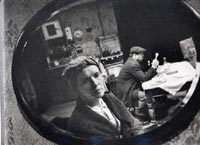 "The Room is beautifully acted and directed. It is an almost perfect play, and its originality does not date."
Kate Kellaway, New Statesman, 3 April 2000.
"As writer and director, Pinter whips up tension from the very opening of The Room. [...] Most consistent of all, however, is Pinter's trademark - his startling control of language. At one point, when her husband (Keith Allen) gets out of hand, Susan Wooldridge purrs 'he doesn1t normally go in for agression. He usually disguises it under honeyed words.' Which is as close as Pinter has ever come to defining his style."
David Benedict, The Independent, 23 March 2000.
"The double bill of 'Celebration' (2000) and 'The Room' (1957, which runs through tomorrow at La Guardia Drama Theater, is the latest gift from the Pinter Festival at Lincoln Center, and it's something to cherish."

"Polished to a reflective sheen under Mr. Pinter's direction, with a cast that seems to have stepped straight from its author's dreams, this double bill is as purely pleasurable a slice of Pinter as you're likely to see."

Ben Brantley, The New York Times, Friday 27th July 2001.