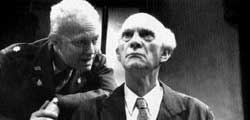 Assistant director - Joe Harmiston
Set designer - Eileen Diss
Lighting designer - Mick Hughes
Costume designer - Tom Rand
Sound designer - Tom Lishman
Major Arnold - Michael Pennington
Emmi Straube - Geno Lechner
Lieutenant Wills - Christopher Simon
Helmuth Rode - Gawn Grainger
Tamara Sachs - Suzanne Bertish
Wilhelm Furtwangler - Daniel Massey
"It's not hard to see why Pinter was so keen to direct Harwood's play. The two men had first met in 1953 when both were members of Donald Wolfit's company, had joined forces in many a PEN protest on behalf of imprisoned writers, and socially had remained good friends [...] But beyond the claims of friendship, you can see why Pinter was so drawn to Harwood's play. It is about an issue of central concern to him: the role of the artist in a totalitarian society and the question of wheteher art can ever transcend politics."
Michael Billington, The Life and Work of Harold Pinter, London: Faber and Faber, 1996, pp.365.
"Harwood holds the scales of justice with considerable and commendable dexterity. Harold Pinter's extraordinary, taut and compelling production gives all his arguments full value."
Jack Tinker, The Daily Mail, 4 July 1995.
"Under Harold Pinter's decisive yet unobtrusive direction, layers of characters and lies peel away as the pressure mounts."
Shaun Usher, The Daily Mail, 23 May 1995.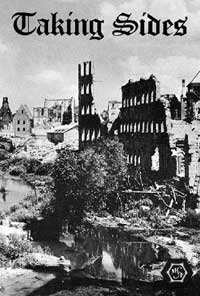 "As a director Harold is the best I've ever worked with. Unequivocally. No one creates a pleasanter, more agreeable atmosphere in which work can take place which is one of the keys to a good director. His care and precision, his affection for the actors was marvellous. The way he works is also very interesting. He doesn't give a talk about the play. He says, 'Let's just find out what it's about.' He also makes sure the moves are always justified. There's a slightly static, almost stylised, quality to his work. He will say to an actor, 'Do you feel that move is absolutely necessary?' or, 'Don't feel you have to move just because you've been there for a long time.' He's also a great respecter of the text. HE asked me for just four changes. Two were very minor, one I rejected and one was absolutely crucial. There's a moment in the second act when one of the characters, who's an ex-Nazi, originally said to the American Major: 'Ask him about von Karajan. That'll be useful. Ask him about Herbert von Karajan.' Harold said that you want to put that before and end the scene on: 'Ask him about his private life.' He was absolutely right. It made a much better end to the scene and showed that Harold has a very traditional theatrical instinct."
Ronald Harwood in Michael Billington, The Life and Work of Harold Pinter, London: Faber and Faber, 1996, pp.365-6.
"Harold Pinter, no less, directs. Furtwangler would have approved the sustained pianissimi and expressive silences of the playing, and the excellent ensemble."
Alastair Macaulay, The Financial Times, 23 May 1995.
"Harold Pinter's direction helps to create the sense of danger and the importance of asking what people can best do in such predicaments."
Jeremy Kingston, The Times, 24 May 1995.
"Harold Pinter's direction has the tidal power of clarity and restraint. He and his actors have set their faces against rhetoric and the temptations of emotional overcharge. Pinter understands and respects Harwood's decision to let the characters make their own case without the luxury of seeing themselves as tragic figures on a world stage. The tragedy is for us to sense."
John Peter, The Sunday Times, 28 May 1995.