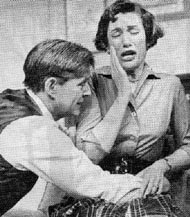 Assistant director - Gari Jones
Set designer - Eileen Diss
Lighting designer - Mick Hughes
Costume designer - Dany Everett
Thomas Brownlow - Nicholas Woodeson
Holliday Smithers/Charles Smithers - James Fleet
Celia Smithers - Harriet Walter
Holliday Smithers (child) - Sam Bedi
Ellie Brownlow - Angela Pleasance
"Between them, Gray and Pinter create an ominous aura of mystery and ambiguity that is captivating. If Pinter had never written a word, his work as a director would mark him out in British theatre."
The Independent on Sunday, 2 May 1999.
"Harold Pinter, directing his eighth Gray play, also gets the details exactly right: not just the obvious things like a father's shyness about discussing masturbation with his son but, even more importantly, the sense of guilt that pervaded fifties life."
Michael Billington, The Guardian, 27 March 1999.