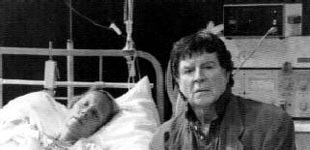 Set designer - Eileen Diss
Lighting designer - Mick Hughes
Costume designer - Dany Everett
Sound designer - Tom Lishman
JG - Alan Bates
Jack - Nickolas Grace
Gwen - Georgina Hale
Pat - Frank McCusker
Julia - Carole Nimmons
"The triumvirate of Harold Pinter, who directed the play with great sensitivity, Simon Gray and Alan Bates goes back a long way. It's a winning combination, ten and now."
Margaret Burgess, The Surrey Advertiser, 13 June 1997.
"He feelingly creates a mood similar to that in his own A Kind of Alaska in which the pain springs from the desperate attempt to communicate with those who are beyond our reach."
Michael Billington, The Guardian, 6 August 1997.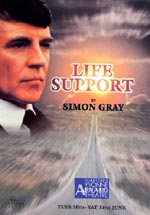 "Harold Pinter's production is spare, scrupulous and continually involving. It's a rich and affecting evening."
Charles Spencer, The Daily Telegraph, 7 August 1997.
"Harold Pinter directs with a stony refusal to be sentimental. It's not an easy evening but it is totally absorbing and at the end it feels almost crass to applaud."
Helen Reid, Western Daily Press, 2 July 1997.
"Harold Pinter is extraordinarily sure-footed in his direction of a play that exerts a grip fro mthe outset, focusing our attention on a man whose personality and temperament are fatally flawed but is made somehow immensely likeable in Bates' immaculate performance."
Peter Hepple, The Stage, 14 August 1997.