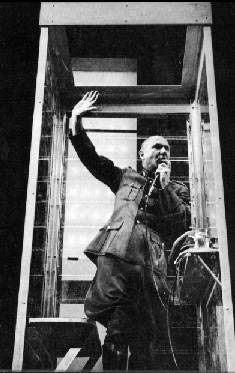 New York cast:
Goldman - Donald Pleasance
Sam - Graham Brown
Jack - Madison Arnold
Charlie Cohn - Lawrence Pressman
Flower Man - John Coe
Dr. Kessel - Jack Hollander
Rudin - F. Murray Abraham
Mres- Rosen - Ronni L. Gilbert
"Pinter, having read the novel and worked extensively with Shaw on the play - Shaw actually told one interviewer that Pinter had 'adapted' the novel - volunteered to direct the play in the West End. It would be the first time he directed work other than his own. Further, Pinter thought Donald Pleasance would be ideal for the lead, though Shaw had privately imagined he would play the part himself. As the three of the had previously been involved in setting up the film of The Caretaker it seemed natural that they should put on the play themselves."
John French, Robert Shaw: The Price of Success, London: Nick Hern, 1993, p.107.
"My own bizarre first encounter with Pinter took place, in fact, the night after the opening of The Man in the Glass Booth when I interviewed him and Robert Shaw on live TV. Shaw's play was a tough moral thriller which raised the question, through the trial of a New York tycoon who poses as a concentration-camp guard, as to whether the Germans should be absolved for the killing of the Jews. The play raised big issues, but was patronisingly out down by the overnight critics. Although I had not written about the play, as the deputy to The Times drama critic Irving Wardle I was deemed guilty by association, and I recall being trapped in a hostile pincer-movement from the two heavyweights Shaw and Pinter, with which I was ill-equipped to cope."
Michael Billington, The Life and Work of Harold Pinter, London: Faber and Faber, 1996, p.194.