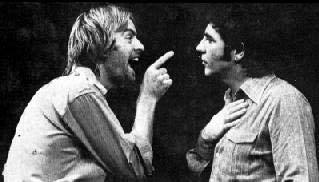 Ian Charleson and Alan Bates
Designer - Eileen Diss
Lighting designer - Leonard Tucker

Simon - Alan Bates
Dave - Ian Charleson
Stephen - Nigel Hawthorne
Jeff - Julian Glover
Davina - Jacqueline Pearce
Wood - Benjamin Whitrow
Beth - Mary Miller
"It is a particular skill of Mr. Pinter as a director, as much as a playwright, that he can make ambiguity into a virtue and prefers, like Mr. Gray and Mr. Bates, to suggest rather than state. He takes the play's tortuous backtracking, its odd insistence on literalness in language and gives it a measured, dense quality that is almost operatic in texture."
Clive Barnes, The New York Times, 18 August 1975.
"Harold Pinter's direction keeps the pace chilling and crisp with Alan Bates alert to every degree of desiccation in a voice which is as arid as sand and Julian Glover and Jacqueline Pearce are ideal in the projection of blustering hot and cool respectively. The cumulative impact reverberates nastily and memorably."
Nicholas de Jongh, The Arts Guardian, 31 July 1975.