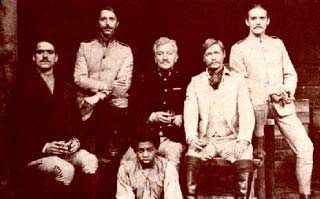 Designer - Eileen Diss
Lighting designer - Nick Chelton
Costume designer - Elizabeth Waller
Bonny - Donald Gee
Jameson - Jeremy Irons
Ward - Simon Ward
Troup - Clive Francis
Barttelot - Barry Foster
John Henry - Riba Akabusi
Native Woman - Dorrett Thompson
Stanley - Michael Forrest
"As for Simon Gray [...] I admire him tremendously. I think he's a writer of incredible vividness and vigour and wit. I always have a whale of a time directing his plays."
Harold Pinter to Mel Gussow, Conversations with Harold Pinter, London: Nick Hern, 1994, p.55.
"Besides Gray1s writing, Harold Pinter's unemphatic directing and a remarkably consistent company supply a super-abundance of that unfashionable theatrical commodity, individual character."
Benedict Nightingale, The New Statesman, 23 February 1978.