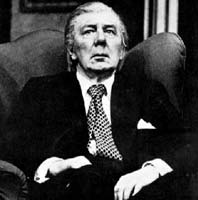 Michael Redgrave
Designer - Eileen Diss
Jasper - Sir Michael Redgrave
Daisy - Annie Leon
Henry - Michael Gambon
Marianne - Anna Massey
Benedict - John Standing
Margaret - Lynn Farleigh
Jenny - Zena Walker
Matthew - Adam Godley/Matthew Ryan
"This is the fourth play of Simon Gray's I've directed. It has really been a very rich association from my point of view. All his plays are so different from anything before. He is a very adventurous man."
Harold Pinter to Sydney Edwards, The Evening Standard, 18 May 1979.
"Friday 19 February - Went to the first rehearsal, a read-through, of Simon Gray's Close of Play. It's mordant, grotesque, and dreadfully funny. I was moved to see Michael Redgrave there, Crocker-Harris to life, sitting listening arttentively to the other actors and gazing quizzically over his half glasses. This was one of my favourite actors in his prime. Now he is slow and gentle and ravaged by Parkinson's disease. It1s a miracle this part exists to get him back onto the stage - a part with no words, the character in a wheelchair, but the face having to convey infinite feeling."
Peter Hall, John Goodwin (ed.), Peter Hall's Diaries: The Story of a Dramatic Battle, London: Hamish Hamilton, 1983, p.416.
"By stressing the predominance of linguistic over gestural and histrionic effects, Pinter's direction demonstrated Gray's technique of employing conversational prose as a powerful mode of dramatic action, a technique which Pinter has developed to perfection in his own plays."
Robert Gordon 'Experimental Drama and the Well-Made Play' in Katherine Burkman (ed.), Simon Gray: A Casebook, London: Garland, 1992, pp.7-8.
"Harold Pinter's sensitive direction, even if it only occasionally hits off the hidden symbolism, beautifully synchronises the petty domesticity with the deep hurt that tears these characters apart even while they are munching their muffins." Milton Schulman, The Evening Standard, 25 May 1979.
"There is something a bit sub-T.S.Eliot about a sudden lunge into choral speech. But Harold Pinter's production exactly catches the play's note of verbally precise rancour." Michael Billington, The Arts Guardian, 25 May 1979.