Acting for TV drama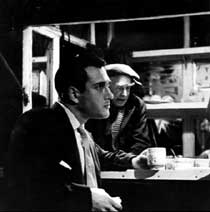 Harold Pinter as Seeley
A Night Out by Harold Pinter, ABC TV Armchair Theatre, 24 April 1960
Directed by Philip Saville
(Assheton Gorton - Designer)
Albert Stokes - Tom Bell
Mrs Stokes - Madge Ryan
Seeley - David Baron [Harold Pinter]
Kedge - Philip Locke
Mr Ryan - Edward Malin
The Girl - Vivien Merchant
Though written for TV in 1959, A Night Out was first performed on radio on the BBC 3rd programme on 1 March 1960, with Pinter in the role of Seeley.
"I believe that Pinter, once he stops acting like a fearsome tape-recorder and decides on his attitude to life, will become one of our most important younger playwrights." The Herald, 25 April 1960.
No Exit (Huis Clos) by Jean-Paul Sartre, BBC2, 15 November 1965
Directed by Philip Saville
Harold Pinter interpreted the lead role of Garcia in Sartre's famous claustrophobic play of self-definition and identity.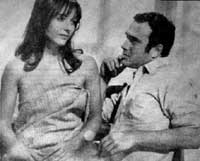 Harold Pinter as Stott
The Basement by Harold Pinter, BBC2 (Theatre 625 series), 16 February 1967
Directed by Charles Jarrott
(Eileen Diss - Designer)
Stott - Harold Pinter
Law - Derek Godfrey
Jane - Kika Markham
The Basement was originally entitled The Compartment and written in 1963 commissioned by Grove Press in the States as part of an aborted project to film three screenplays by Pinter, Beckett and Ionesco. Only Beckett's (Film, 1965, starring Buster Keaton) was completed.
Harold Pinter received lukewarm reviews for his acting in this TV screening of this screenplay, which was otherwise warmly received ("a programme I would only have mourned if I'd missed it" (Kenneth Eastaugh, The Daily Mirror, 21 February 1967). He was described as "not a terribly good [actor]" (Maurice Wiggin, The Sunday Times, 26 February 1967) and "rather leaden" (Edward Lucie-Smith, The Critics, BBC Home Service, 26 February 1967) and his text as "not always well performed, though he emanated a sadistic animal quality in a handsome, hairy way." (Kenneth Eastaugh, The Daily Mirror, 21 February 1967).
Pinter People, NBC Experiment in TV (USA), 6 April 1969.
Animated by Gerald Potterton
A collection of Pinter's sketches as short animated films. These were The Black and The White, The Last to Go, Request Stop, The Applicant and Trouble in the Works. Harold Pinter provided some of the voices.
| | | |
| --- | --- | --- |
| The Black and the White | | Last to Go |
Rogue Male BBC TV Movie, 1976
Directed by Clive Donner (A remake of Fritz Lang's Manhunt)
Harold Pinter played the part of a Lawyer.
Langrishe, Go Down by Harold Pinter, adapted from the novel by Aidan Higgins, BBC2 Play of the Week, 20 September 1978.
Directed by David Jones
Having written the screenplay in 1971, Pinter had hoped to direct this work himself, but backing could not be found and he became soon absorbed by the Proust Screenplay. David Jones referred to the screenplay as "a love poem to Harold's own time in Ireland" (in Michael Billington, The Life and Work of Harold Pinter, Faber and Faber, 1996, p.268.) "It's about three middle-aged spinsters living in a house in Ireland in the 1930s. At the lodge gate there's a cottage and a German philosophy student in his 30s working on a thesis." (Harold Pinter to Mel Gussow, Conversations with Pinter, Nick Hern, 1994, p.37.) Pinter played Barry Shannon, an overbearing Irish drunk, in a brief scene.
The Birthday Party by Harold Pinter, BBC2 Theatre Night, 21 June 1987.
Directed by Kenneth Ives
(Bruce Macadie - Designer)

Goldberg - Harold Pinter
Meg - Joan Plowright
Stanley - Kenneth Cranham
McCann - Colin Blakely
Petey - Robert Lang
Lulu - Julie Walters

"One can't fault Harold Pinter as this menacing sort of Faulty Towers figure." Richard Mayne, Critics' Forum, BBC Radio 3, 28 June 1987.

"Pinter, as the menacing Goldberg, wrapped his Yiddish accent around such lines as 'If you want to know the truth, Webber, you're beginning to get on my breasts' and 'Your bite is dead, only your pong is left' with a terrifying, chilly relish." Saskia Baron, The Independent, 22 June 1987.

Harold Pinter (right) as Goldberg

"As one of a pair of sinister strangers who, for reasons never made clear, terrorise the innocent Stanley, Pinter reveals the talent for playing villains on which he capitalised in his repertory days. For some reason or other, he says, he is frequently asked to play gangsters in films: 'Really quite vicious gangsters, too. I don't know where people get this idea. Cutting people's heads off. Although I really do enjoy playing the sinister roles. I have a goodly amount of relish for Goldberg.'" Sue Summers, London Daily News,19 June 1987.
Breaking the Code by Hugh Whitemore (1997)

Directed by Herbert Wise

The West End play, adapted for TV by the author, examined the plight of Alan Turing (played by Derek Jacobi), the mathematical genius recruited by the British Government during World War Two to decipher the Germans' 'Enigma Code' and later persecuted for his open homosexuality. Pinter played the part of John Smith (a Home Office agent). "Harold Pinter [...] was so unnervingly spooky that I don't believe he was acting at all" The Sunday Times, 9 February 1997 s

Harold Pinter as John Smith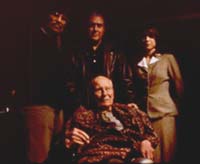 David Mamet, Harold Pinter, John Gielgud, Rebecca Pidgeon.
Catastrophe by Samuel Beckett (David Mamet, 2000)
Directed by David Mamet
Mamet directed Beckett's short play, written in support of the then imprisoned Vaclav Havel in 1982, with Harold Pinter as D (Director), Rebecca Pidgeon as A (Assistant) and John Gielgud in his final role as P (Protagonist). This film was one of a series of 19 screen adaptations of Beckett's complete dramatic works, produced by Michael Colgan and Alan Moloney.
"It brings together three of the great playwrights of the last century" Michael Colgan, The Irish Times, 13 May 2000.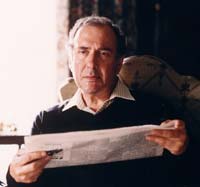 Wit (Mike Nichols 2001 for HBO)
Screenplay by Emma Thompson and Mike Nichols from the play by Margret Edson
Harold Pinter plays the role of The Father in this adaptation of the Pulitzer Prize-Winning play. Emma Thompson plays a professor of 17th century English poetry who is diagnosed with ovarian cancer.
Wit not only effected theatre goers, but sent shockwaves through the medical community when it opened and was seen by many as a training manual for physicians and nurses in advanced patient cancer care.
Back To Acting main page