Acting for the stage (1960 - present) Page 2

The Hothouse, The Minerva Studio Theatre (a.k.a. The Chichester Festival Theatre) (17 August - 9 September 1995), The Comedy Theatre (12 - 16 September 1995) (and tour).

Directed by David Jones (Eileen Diss - Set designer, Tom Rand - Costume designer, Mick Hughs - Lighting designer, Tom Lishman Sound designer)

Roote - Harold Pinter
Gibbs - John Shrapnel
Lamb - Christien Anholt
Miss Cutts - Celia Imrie
Lush - Tony Haygarth
Tubb - Roland Oliver
Lobb - Peter Blythe

"As the play began, Pinter stood with his back to the audience, facing the window to his left, at an angle, apparently 'looking out' as the text dictates. Deeply intoning Roote's first several lines [...] wit his back to the audience, Pinter finally turned on 'Dead?' The anticipation until he turned around was palpable. When he did turn his face to the audience, we could see that he was sporting a short bristly moustache for his role s 'Colonel' Roote. At this point he appropriately exhibited strong physical energy, springing gracefully to his desk to open up his 'desk diary' to prove Gibbs wrongs about patient 6457."
Susan Hollis Meritt, 'Pinter Playing Pinter: The Hothouse' in F. Gillen and S. Gale (eds.), The Pinter Review, 1995 and 1996, pp.73 - 84.

"The Director of the Institution is played by Pinter himself, sporting a moustache (which suits him) and giving a brilliant comic performance - truculent, insecure, blustery, beady-eyed, always that little bit unpredictable. It would be worth going simply to watch him struggling to conceal his satisfaction, and almost bursting with the effort, as one of his subordinates piles on the flattery." John Gross, The Sunday Telegraph, 3 September 1995

"As Roote, the corrupt and heartless chief administrator of this Kafkaesque home, he deploys his bass voice in taut tones; he is at once threatening and defensive, susceptible to flattery and explosively domineering, swaggering and hesitant; and he is funny because we never know which facet he will present next." Alastair Macaulay, The Financial Times, August 1995
Look Europe!, by Ghazi Rabihavi, a reading at the Almeida Theatre, London, 5 October 1997.

In 1984 Faraj Sarkoohi, editor of the Iranian journal Adineh, involved in drafting a charter for writers, was arrested for espionage. In a letter written during a brief period of release he detailed the torture and interrogation he had undergone and spelled out his assumed fate. Ghazi Rabihavi dramatised the plight of Mr Sarkoohi and Harold Pinter became aware of the play at a meeting of Index on Censorship.

Directed by Gari Jones

Tramp - Harold Pinter
Faraj Sarkoohi - Roger Lloyd
Pack Security man - Nadim Sawalha
Mr Sarkoohi's secretary - Anna Friel

"Harold Pinter's role in the play is of an angry, drunken tramp whom Mr Sarkoohi befriends in a park, before entrusting him with a letter to his family just before he was re-arrested. 'It is a big part - he is a central figure in three scenes,' says Gari Jones [...] 'He talks in long monologues about how he despises the system.'" Catherine Milner, The Sunday Telegraph, 28 September 1997

Pinter at the Almeida

I wanted to be involved, to lend my service, to bring this play to the light. It can explain what is happening to this unfortunate man in Iran. Though it is inspired by him, it is not limited to him. It has much wider application. There are Iran's next-door neighbours such as Turkey. In the States there are hundreds of people on Death Row. Many of them are mentally deficient and, undoubtedly for racial reasons, are presumed to be guilty. They can hardly be said to have had a fair trial. In this country asylum seekers are held in detention centres, some of them for two years, and are suffering in prison with no charge." Harold Pinter in The Independent, 3 October 1997.
The Collection, Pinter Festival, Gate Theatre, Dublin (7 - 27 April 1997) and Donmar Warehouse, London (7 May -13 June 1998)

Harold Pinter as Harry

Gate Theatre:
Directed by Alan Stanford (Frank Hallinan Flood - Set designer, Alan Burrett - Lighting designer, Joan O'Clery - Costume designer)

Harry - Harold Pinter
James - Gerard McSorley
Stella - Ingrid Craigie
Bill - Frank McCusker

"Inevitably, one of the fascinations of The Collection was to watch Pinter himself playing the role of Harry and to see the sense of containment in his acting [...] Harry is required to oscillate between calm civility and violent rage, between polite banality and surreal invention. And instead of attempting to create a character in which all of these contradictions could be reconciled, Pinter did the opposite. He represented Harry as a vessel into which the various emotions could be poured and out of which they could as suddenly be emptied" Fintan O'Toole, The Irish Times, 15 April 1997
Donmar Warehouse: (Performed with The Lover and A Kind of Alaska as '3 by Harold Pinter', toured without A Kind of Alaska)

Directed by Joe Harmeston (Tom Rand - Set and costume designer, Robert Bryan - Lighting designer, John A Leonard - Sound designer)

Harry - Harold Pinter James - Douglas Hodge Stella - Lia Williams Bill - Colin McFarlane

"He's a volatile and powerful bloke, no doubt about it. But he wouldn't be the playwright he is if he didn't have those qualities. Working with him is actually the opposite of intimidating. Without sounding pretentious, it's liberating. You feel you have his credence - and he's often as nervous as you are. Also, if he's acting in a play he's written, he's beautifully well-mannered. He doesn't say to the director, ' this is how it was meant to be'." Douglas Hodge to James Rampton, The Independent, 13 May 1998

"Pinter pitched his performance somewhere between the high comic style of Noel Coward's Design for Living (with which the play has some affinities) and his own sinister performance of Goldberg in The Birthday Party. Many critics jokingly observed that Pinter's gesture of stroking the cat, while indulgently sensuous, simultaneously suggested that Harry might just as easily be capable of strangling it, recognizing the aforementioned antinomy of stasis and violence through which the suspense of Pinter's drama is constituted." Robert Gordon, '3 by Harold Pinter' in F. Gillen and S. Gale (eds.), The Pinter Review, 1997 and 1998, pp.146 -50.
"The playwright gives a virtual acting master class as Harry, stabbing scenes with deliciously droll comedy" David Benedict, The Independent, 15 May 1998.
"Pinter [...] is full of elegance, danger, aplomb. He takes charge of loaded situations with a partly absurd display of urbanity, he tries to reinforce his authority with petty assertions of power, and often you sense in him the cowardly control-freak secreted behind the polished snarl." Alastair Macaulay, The Financial Times, 15 May 1998.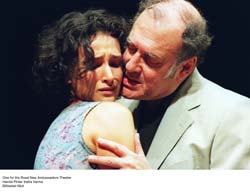 Indira Varma & Harold Pinter
Photographer - Alasdair Muir
One For The Road (2001) New Ambassadors Theatre, London & Lincoln Center Festival, New York
Cast:
Harold Pinter as Nicolas
Lloyd Hutchinson as Victor
Indira Varma as Gila
Rory Copus as Nicky Directed by Robin Lefevre
Set & Costume Designed by Liz Ashcroft
Lighting Designed by Mick Hughes

"Before he became a celebrated dramatist, Pinter was a lowly rep actor, playing such glamorous locations as Whitby, Huddersfield, Worthing and Palmers Green, but, after seeing him in several of his own plays, I'm convinced that, if he hadn't become a great writer, he would now be almost as famous as an actor. As well as having a tremendous stage presence and a wonderfully rich and resonant voice, Pinter brings out every nuance, every shard of black humour and every psychological quirk in the character of Nicolas, a self-proclaimed civilised man who earns his living as a torturer" Charles Spencer in The Daily Telegraph - Thurs. 5th July 2001
"Pinter the writer is much lauded. Less is written about Pinter the actor. And watching him play the sadistic interrogator in his own short, shocking play about political oppression you realise he could have been a contender: mixing muscular authority with flickering irony he would have made a natural classical heavy. A pity, you feel, he never gave his Richard the Third. That quality of lethal surprise is necessary in One for the Road" Michael Billington in.The Guardian - Wednesday 4th July 2001