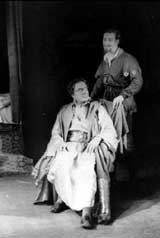 Harold Pinter (standing) as Iago with Anew McMaster as Othello
"I toured Ireland with Mac for about two years in the early 1950s. He advertised in The Stage for actors for a Shakespeare tour of the country. I sent him a photograph and went to see him in a flat near Willesden Junction [...] He offered me six pounds a week, said I could get digs for twenty-five shillings at the most, told me how cheap cigarettes were and that I could play Horatio, Bassanio and Cassio. It was my first proper job on the stage."
Harold Pinter, 'Mac' in Various Voices: Prose, Poetry, Politics 1948 - 1998, Faber and Faber, 1998, p27.
"We played in Cork in a theatre that burned down, called the Cork Opera House, a wonderful theatre. It had a backstage bar, so actors could pop in and have a drink while the show was running. We were doing Lady Windermere's Fan, and I was playing Lord Windermere. Joe Nolan came on one night wearing a top hat, tails, white tie, monocle, cloak and carrying a silver walking stick; in other words, dressed to the nines. He walked up to me on stage, in front of the full house, and said in a very, very quiet voice, under his breath, "I'm totally pissed, say something!" I said, "Ah! Lord whatever-his-name-was, you've been I should imagine to the Garrick." Harold Pinter to Mel Gussow, Conversations with Pinter, Nick Hern, 1994, p.110.